As time passes, your software will inevitably become dated and unoptimized. But when exactly do you need to revamp your software as opposed to just updating some parts of it? Of course, the safest answer would be as soon as possible. However, if you really want to carefully consider your options, reaching out to a professional development company would be the best move.
At Honeycomb Software, we lead businesses toward achieving extraordinary software development. Founded in 2015, we've become one of the fastest-growing development solutions providers as we help our partners achieve exemplary digital experiences. Whether you need a revamp or software from scratch, Honeycomb is here to aid you in your mission.
In light of our efforts to provide stellar comprehensive solutions to our partners, we've obtained a brand new 5-star review on Clutch from one of our current clients.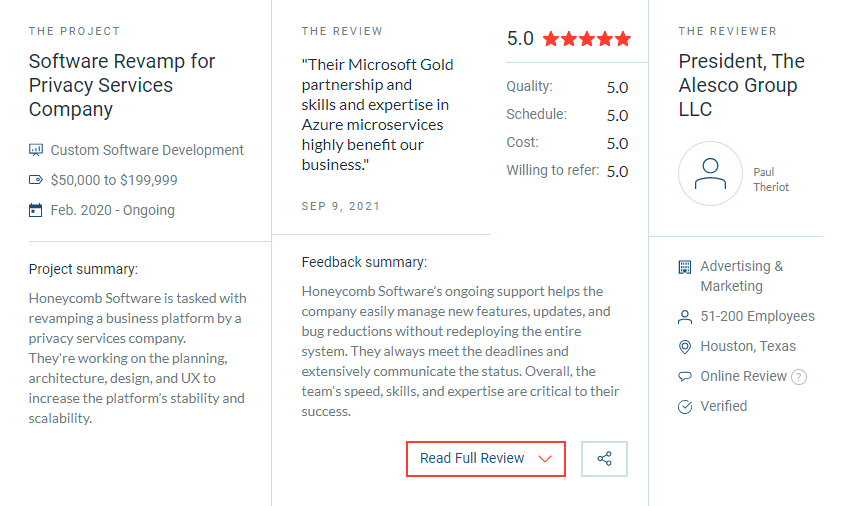 Clutch, if you're not familiar with it, is an established B2B reviews platform that helps firms across the globe connect with the solution providers that they need in order to improve effectiveness and increase productivity.
Clutch is the leader in connecting global service providers with corporate buyers from around the world. The ratings and reviews platform publishes the most extensive and referenced client reviews in the B2B services market.
The latest in our catalog of feedback comes from Alesco Group LLC. In their review, they shared their overall experience in collaborating with Honeycomb Software. More importantly, they discussed the need for a revamp, and how our team has helped them greatly since our partnership began.
"Our Privacy platform had been developed by a Honeycomb competitor. The frameworks the previous team used were very unstable, didn't allow much customization, and was very difficult to support. We tasked the Honeycomb team with a ground-up rebuild. Our goals were to increase platform stability and scalability while allowing for on-the-fly customization.

There was an extensive level of communication from Honeycomb and their team was able to operate at a pace that got our project completed more quickly than I thought was possible."

— Paul Theriot, President, The Alesco Group LLC
Check out the full review for an in-depth analysis of our work. Honeycomb Software is also included in Top Design Firms' latest research as a leading AI company in Ukraine!